manual filling machine for spout doypack
manual spouted doy pack stand up pouch bags filler packaging machine-FBKGFI
Model number

FB-KGF-I

Application

Filling product

high/low flowing of fluids

Pouch style

types of spout pouch filler machine

MOQ

1set

Leading time

15-25days

Packing

Wooden carton

Product Details
doy packaging machine,spout pouch filler,manual stand up pouch filler
Introduction
For the FB-KGF-I, it is another standard configuration model in our manual stand up pouch filler series, equipped with a 40KG of material hopper, and specialized for filling all kinds of high/low flowing of fluids, such as detergent, motor oil, juice and etc.
Feature
-This kind of doy packaging machine uses the compressed air the for controlling, it has high safety especially suitable for use under the explosion-proof requirements.
-It won't generate static electricity and hemp electricity phenomenon; the machine does not need to connect the grounding wire.
-Due to the pneumatic controlling and fixed filling volume, the filling volume is therefore characteristic with high precision, which can be controlled within 0.3%.(this is basis on maximum filling volume).
-In the case of emergency stop, you just need to turn off the pneumatic switch, the piston will be pulled automatically back to the starting position, and the machine will stop filling.
-Hand-held capping system solve the plastic cap locking problemperfectly, greatly improve whole the working efficiency.
Technical Parameters
Filling material

detergent, motor oil, juice and etc.

Available filling capacity

100ml-1000ml

Quantity of machine filling nozzle

1

spout pouch filling speed

auto version

1200 pouch/hour

manual version

adjusted by yourself

Material of machinery

SUS304

Power supply

AC 380V /50Hz (customized based on different voltages)

Using air pressure

0.4~0.5Mpa

Filling error(for max volume)

Within ±0.5%

Machine dimension

700mm×350mm×500mm

Materials hopper

40KG
Application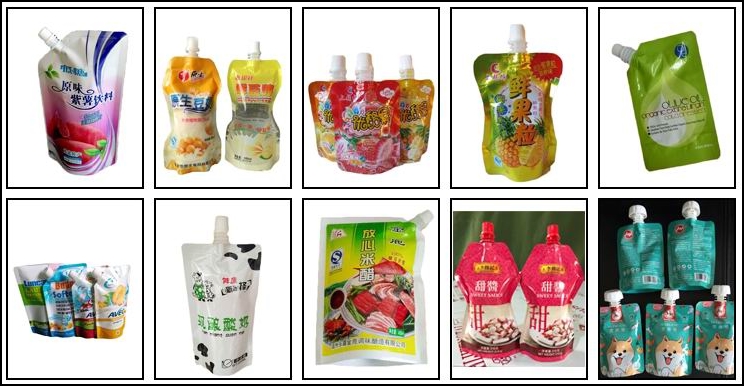 Working principle of doy packaging machineFB-KGF-I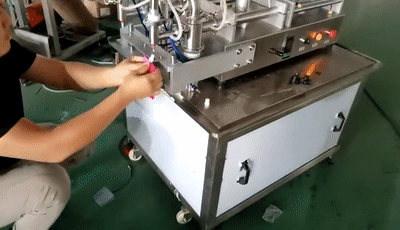 -fixed position filling (auto version or manual version)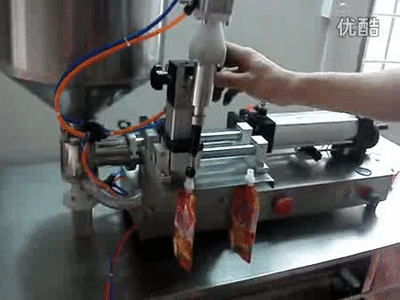 -manual capping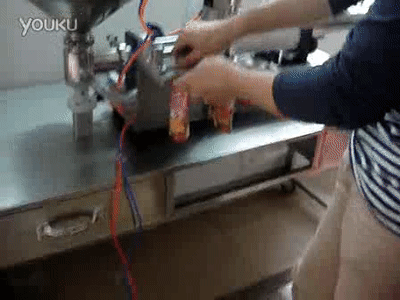 Characteristic of FB-KGF-I
-The pushing and pulling of the air cylinder, it drives the cylinder piston do the reciprocating motion, which makes the material cylinder to generate the negative pressure.
-When the cylinder is pushed forward, it pulls the piston to the back, and inside the material cylinder, the negative pressure absorbs the material into the inlet pipe from the material hopper.
-When the cylinder pulling back, it pushing the piston forward, the material will be absorbed to the filling mouth from the pipe, then, it fills to the empty pouch(the filling head open and close automatically when the material is absorbed in and out).
-This piston type filling machine is a single, simple mechanical action for the each filling, so it has a high filling accuracy and stability for spout pouch.
For more video about FB-KGF-I doy packaging machine, please visit our

Inquiry Now
Can't find the specific information you're looking for? Have a question ? Contact Us