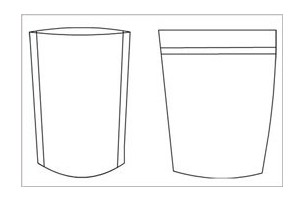 Stand up pouch,it is a kind of flexible pouches packaging which is able to stand by its bottom for display,with characters of light,space-saving,a wide range of uses
Application
liquid or semi-liquid products / powder products / granules products and etc.
Equipment
-rotary doypackpackaging machine
what is a stand up pouch?
stand up pouch,also known as doypack,according to PACKAGING DIGEST,"the basic doyen design consists of two flat sheets sealed together along their sides,with a 'W' fold running along the bottom.When the pouch is filled,the 'W' opens and provides a base on which the pouch can stand",This pouch type was revolutionary,boasting the ability to stand upright on its own,hence is also known today as the standing pouch.
It is vailable in a range of barrier laminates and help to extend your products shelf life while clever resealability and easy open functions help to keep your product fresh for longer.
Its advantages allow you to maximize your shelf presence and brand perception while reducing packaging costs and weight.
Feature of stand up pouch
-Choose from a standard press to close or easy use velcro zipper to maintain your product freshness. Pair any zipper with our easy open tear notch for a clean, straight tear every time.
-Choose to swap our standard square corners for rounded edges. This convenient feature avoids any damage that could be caused by sharp corners, improving the packs storage and usability.
-Depending on the volume you are packing, we can offer you a doy or k-seal gusset. Our doy pouch is suitable for lightweight products while the k-seal pouch is more durable for higher volumes.
-Increase the levels of consumer engagement with your product by including a clear or frosted window in your stand-up pouch design.
-Available in sizes ranging from 50g to 15kg.
-Finish / Aesthetics-Available in a matt, gloss, de-metalized, unprinted and registered matt finish.
-Pack Properties-Available with oxygen, moisture, UV, aroma and puncture barriers to protect your products integrity.
-Filling and Sealing-Heat sealable and suitable for hot and cold filling, retort and sterilization.
-Materials-multi-layer laminates using materials such as OPP / CPP / PET / PE / PP / NY / ALU / MetPET,freshest food Grade Materials.
-Printing Process-Gravure print up to 12 colours.
-Choose from press to close zipper, velcro zipper, pocket zipper, easy open tear notch, euro slot, product window, round corners, degassing valve.
basic knowledge of stand up pouch
article of stand up pouch