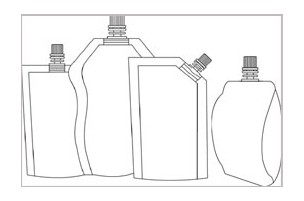 Spout pouch,it is a kind of flexible pouch packaging that assemble with a spout cap on top or corner of pouch,mainly presented as bottom gusset or side gusset
Application
liquid or semi-liquid products / powder products / granules products
Equipment
- spout pouch filling machine (filled from spout)
- spout pouch filling and sealing machine (filled from pouch top)
What is a spout pouch?
spout pouch,also known as fitment pouches,it is a kind of flexible packaging bags with gusseted sides or bottoms and assembled with a recloseable fitment.
As a kind of once underestimated packaging,now it has became a kind of new packaging trend of food industry or non-food industry and becoming more prevalent across many industries due to advances in flexible packaging materials and an increasingly wide variety of convenient fitments,alike for packing liquid, viscous and fine powder products,it is available in a range of different shapes and sizes,this is the perfect format for providing powerful branding and attractive on shelf product presentation.
spout bags are available with a range of different spout fittings and delivery methods depending on your product requirements and filling capabilities,and to be an innovative and convenient alternative to rigid glass, metal and plastic bottles.
Feature
-Shaped Format-spout pouches are available in a range of standard shapes and sizes with something to suit every product. We can also manufacture bespoke shapes to suit your branding and increase your products shelf appeal.
-Easy pouring-spout pouch comes with a choice of different fitments ranging in size and structure from standard tamper evident screw caps to large anti-choke caps. Choose to place your spout in the center or corner of the pouch for increased usability.
-Sizes-Available in sizes ranging from 50ml to 5L
-Finish / Aesthetics-Available in a matt, gloss, de-metalized, unprinted and registered matt finish.
-Pack Properties-Available with oxygen, moisture, UV, aroma and puncture barriers to protect your products integrity.
-Filling and Sealing-Heat sealable and suitable for hot and cold filling, retort and sterilization.
-Materials-Mono or multi-layer laminates using materials such as OPP / CPP / PET / PE / PP / NY / ALU / MetPET,freshest food Grade Materials.
-Printing Process-Gravure print up to 12 colours
-Bespoke Features-Choose from product window, round corners, corner or center spout in a range of shapes and sizes, handle and cold bridge.
basic knowledge of spout pouch