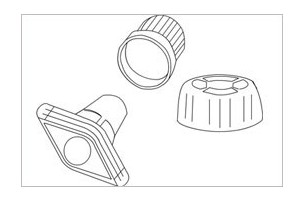 Spout caps,as the important kitted component of bag with spout,its function is weldspout with the pouch and assemble into spout pouch with cap
Application
spout sealing with the flexible packaging pouch.
Equipment of welding spout
- manual spout sealing machine
- automatic spout inserting machine
spout caps,it is an important component and fitments closure for the spout pouch bag,which applied to weld with the pouch thru the spout packing machine,and supporting the reclosable function as well.
Features
-High durability;
-Easy to use, designed for people of all ages;
-Lightweight, engineered to use less material, helping ease the strain -on the environment and natural resources;

Why Choose Our Plastic Spout caps
-We belief that the food safety is the utmost importance. We are a trustworthy plastic spout manufacturer approved by food safety certification.
-Based on our professional expertise and years of experience in the industry, we are able to provide you with innovative production solutions.
-We pride ourselves in our knowledge and ability to develop the best solution through mold making, product proofing and batch production according to customer-specific product parameters and design.
Basic knowledge of spout cap
article of spout cap