plastic cup filling machine
Product Details
rotary cup filling sealing machine
Introduction
For the FB-CCP-FK2000,it is a kind of middle-speed automatic cup filling machine specialized for the filling of yogurt, milk, soy milk, fruit juice and so on liquid products which packaged by the plastic cup and foil lids.
Feature
Servo motor with precision planetary reducer for the rotary table stepping running, it can rotate very fast but avoid material splash because servo motor can start and stop smoothly, and also high positioning accuracy.
This rotary cup filling sealing machine using spiral separating and pressing technology which can avoid the cup damage and deforming, it has vacuum sucker which can guide the cup enter into mold accuracy.
It use photoelectric sensor or optical fibre sensor to detect the mold have or haven't empty cup, it can avoid the mistake filling and sealing if the mold without the cup, reduce the product waste and machine cleaning.
It use piston filling and cup lifting function, no splash and leakage
It make up by 180 rotate vacuum sucker and lids magazine, it can place the lid on the mold fast and accuracy.
It make up by double clamps heating seal molds which special design for aluminum cups, the sealing temperature can 0-300 degree adjustment, based on Omron PID controller and solid-state relay, temperature difference less than +/- 1 degree.
It make up by cup lifting and pulling system, faster and stable.
It make up by PLC, Touch screen, servo system, sensor, magnetic valve, relays etc.
It make up by valve, air filter, meter, pressing sensor, magnetic valve, air cylinders, silencer etc.
It is optional function, it make up by PC plates and stainless steel, has safety switches which protect the operator.
Technical Parameters of FB-CCP-FK2000
| | |
| --- | --- |
| Filling material | yogurt, milk, soy milk, fruit juice and etc |
| Available filling capacity | 《300ml |
| fill and seal speed(cup/hour) | 800-1200 |
| Air Consumption(m3/min) | ≤0.5m3/min |
| Air Pressure(Mpa) | 0.6-0.8Mpa |
| Filling Accuracy | ≤1% |
| Total powder(KW) | 1.8KW |
| Material of machinery | SUS304 |
| Material contact parts | SUS316 |
| Power supply | AC 220V /50Hz (customized based on different voltages) |
| Machine dimension | 1100*1250*1800mm |
Application of packaging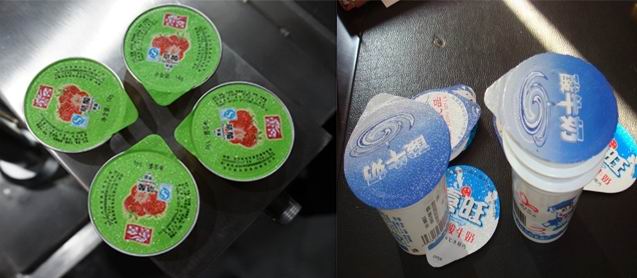 Working process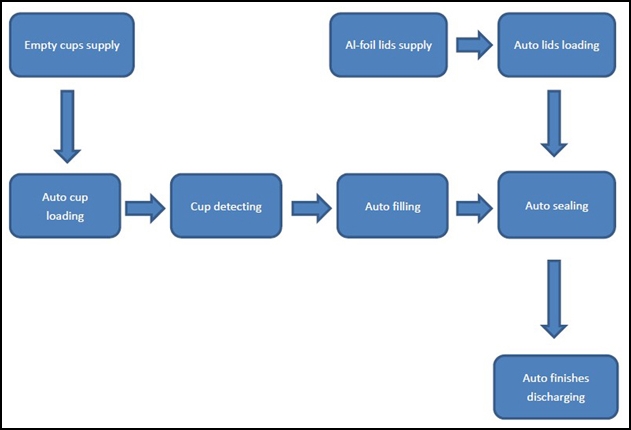 pneumatic components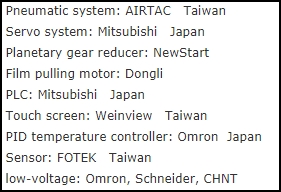 Inquiry Now
Can't find the specific information you're looking for? Have a question ? Contact Us