premade vacuum pouch filling packing machine
Product Details
bag filling and sealing machine
Introduction
For the FB-120ZK,it is a kind of rotary filling and sealing machine which used for the packing and vacuum of ready made food with irregular shape.
Feature
Suitable for the packaging and vacuum of readymade food with irregular shape,such as grilled chicken wings,jerky,meat and etc.
This bag filling and sealing machine equipped with the retractable cup feeding pump,to avoid the food with irregular shape stuck in the opening of bag while the machine filling.
Equipping with the aerospace level vacuum cavity,ensure the vacuum quality to be the best and avoid polluting the environment in the production.
Fully automatic,Clip the bag, open the bag, fill the bag,vacuum/sealing and output the packages.
Easy to operate,The machine adopts Imported PLC control, and human-machine interface with touch screen control system.
Frequency control system,Adopts Frequency Controller, the operator can regulate the packaging speed.
Automatic detection,If the bag is not opened or not opened completely, there will be no feeding and no sealing, so that the pouch can be reused. In this way, you can avoid wasting materials, and reduce production costs.
Stainless steel,Main parts of the machine are made with Stainless steel, so that the machine can meet food hygiene standard, and get a longer service life.
On the machine, the spare part which contacts with the material and pouch conforms to the standard of food sanitation.
optional Multi language for chosen,we could offer all the button and setting list and after got your translation and we put into the program.
Technical Parameters of FB-120ZK
Available filling capacity

10-200gram(depend on packaging products characteristic)

Requirement of pouch dimension

Width:

55mm-120mm

Length:

80mm-180mm

Packing speed(pouch/min)

40-80(depend on the detailed packaing products and capacity)

Material of machinery

SUS304

Material contact parts

SUS316

Power supply

AC 380V /50Hz (customized based on different voltages)

Maximum air conumption

≦0.6m3/min

Machine dimension

2.1mx1.4mx1.7m
Application of products and packaging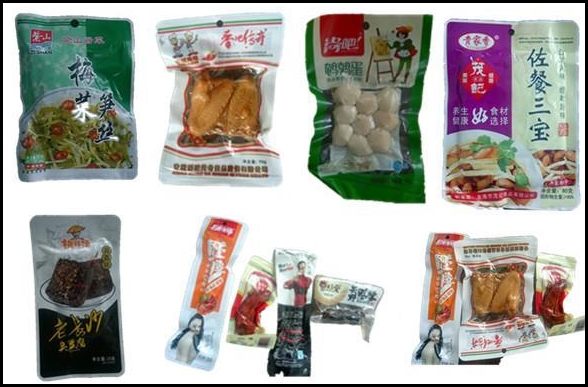 Additional components of machine
working process(8 working stations)
Bag Giving-Feed bags in the bag magazine, which can move up and down, and you can feed bags very easily when it moves down, and when it moves up, there are a mechanical arm with two vacuum caps will take bag up and then transmit it to the mechanical gripper on the rotary table.
Date Coding-Ribbon printer, Ink-jet printer for optional.
Bag Opening-There are vacuum caps to open the bag, and an opening detection device inserts into the opened bag to expanding it and detect if it is open or not.
Product Filling A- Measured and filled byretractable cup feeding pump.
Product Filling B-Gas flush for your option.
Conversion-vacuum cavity auto pick up the pouch.
Vacuum&Heat sealing -vacuum cavity auto vacuum air and sealing the pouch.
Forming and output –formed pouch convey to packaging area by the conveyor

pneumatic components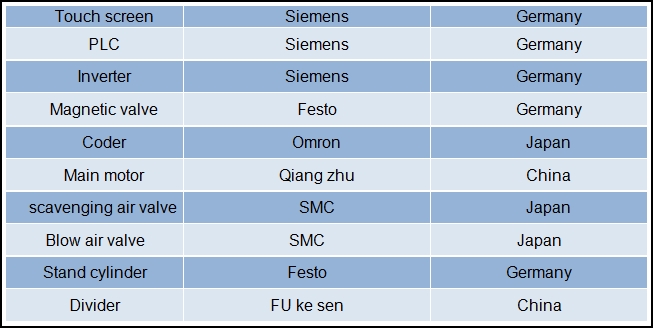 Inquiry Now
Can't find the specific information you're looking for? Have a question ? Contact Us
Related Products