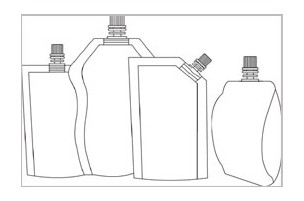 A spout pouch, it is a kind of flexible pouch packaging that assemble with a spout cap on top or corner of pouch,mainly presented as bottom gusset or side gusset,also known as a fitment pouch, is a type of flexible packaging bag that has gusseted sides or bottoms and is assembled with a reclosable fitment, such as a spout cap. Spout pouches have gained popularity in the food industry and other industries due to advancements in flexible packaging materials and the availability of various convenient fitments. They are commonly used for packaging liquid, viscous, and fine powder products. These pouches come in different shapes and sizes, making them ideal for branding and attractive shelf presentation. Spout pouches offer a range of spout fittings and delivery methods to cater to different product requirements and filling capabilities. They serve as an innovative and convenient alternative to rigid glass, metal, and plastic bottles.
1~Product Protection: Spout pouches are made from high-quality materials that provide excellent barrier properties, such as protection against oxygen, moisture, UV light, and punctures. This helps to extend the shelf life and maintain the quality of the product.
2~Convenient and Easy to Use: The spout cap on the pouch allows for easy pouring and dispensing of the product. It eliminates the need for additional utensils, making it convenient for consumers to use on the go.
3~Space and Cost-Efficient: Spout pouches are compact and lightweight, requiring less storage and transportation space compared to rigid packaging options such as bottles or cans. This helps to reduce shipping costs and environmental impact.
4~Enhanced Branding and Shelf Appeal: The printing capabilities of spout pouches enable high-quality graphics and vibrant colors, making the packaging visually attractive to consumers. The unique shape and design of spouted pouches also help products stand out on store shelves.
5~Sustainability: Spout pouches are generally made from materials that are recyclable or have a lower carbon footprint compared to traditional packaging options. They contribute to reducing plastic waste and are a more sustainable choice for packaging.
6~Applications of Spout Pouches
Spout pouches are versatile and can be used for various products, including:Liquid and semi-liquid food items such as sauces, drinks, condiments, and baby food.Powdered products like coffee, protein powders, spices, and snacks.Granulated products such as pet food, fertilizers, and detergents.
In conclusion, spout pouches offer numerous benefits such as product protection, convenience, cost-efficiency, and enhanced branding. They are suitable for a wide range of applications and provide a sustainable packaging solution. The versatility and customization options make spout pouches an ideal choice for businesses looking to differentiate their products and improve customer experience.
basic knowledge of spout pouch