What is the material structure of flex packaging?
Nov 01,2019 | Views: 935
Relative article: types of flexible packaging laminate materials structures
As I mentioned earlier, no matter what kind of presentation to be (flexible pouches or flexible packaging film), the first thing it must be figured out is all of flexible packaging raw materials is impossible to be formed by a single layer, but be formed by the multilayer.
Basically, each kind of material structure of flex packaging is divided into below three structure layers, that is the printing layer/barrier layer /contact layer.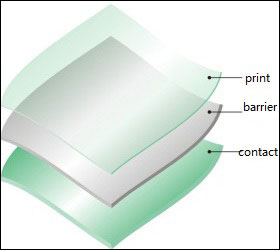 1-Printing layer
Printing layer is presented as a single layer, used for the printing of packaging surface.
2-Barrier layer
Barrier layer is presented as a single layer or two layers, used for some certain purpose, such as the barrier of oxygen, moisture, ultraviolet ray and etc.
3-Contact layer
Contact layer is presented as a single layer, used for directly contacting with the packaging content.
Printing layer

Barrier layer

Contacted layer

PET

BOPP

Nylon

……

AL

AL/Nylon

Metalized-PET

Kraft paper

……

LLDPE

CPP

EVA

……
Surely, it doesn't means above these flex packaging structure layers can be constituted together freely, but as per some fixed calculation formula.
For more video about flex packaging, please visit our

Prev: What's the software/hardware that rotogravure printing required?