What is pouch loader of stand up pouch packing machines?
Sep 05,2022 | Views: 44
About 10 years ago, the pouch loading method of stand up pouch packing machines is full manually, that is two workers keep on hanging the pouch onto the turntable of premade stand up pouch packing machine one by one. Undoubtedly, this method is Inefficient, firstly, as the workers is not a robot, it will be easy to cause a tired state after they manual hanging the pouch for a long time (cause material losing as the machine misoperation); secondly, this method is full manual, that cause the filling speed of doypack packing machine cannot be up to the fastest, or the corner of turntable will be easy to cut the finger of workers so on work injury situation.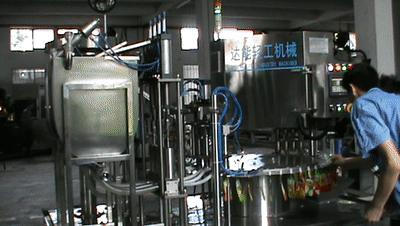 So, this method had been instead by the pouch loader
1-What is the components of pouch loader?
Pouch loader of stand up pouch packing machines is composed by 4 components: basic frame/mini-cylinder/loading trail/pouch pusher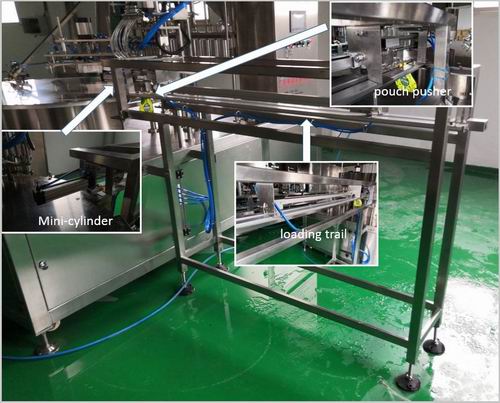 2-What is basic working function of pouch loader?
Basic working function is the pouch pusher pushing the pouch into the turntable by the power of mini-cylinder and circle this process.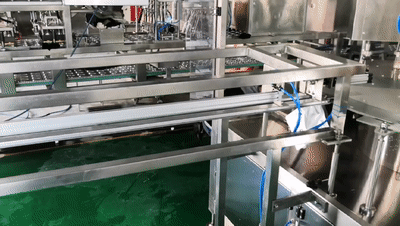 3-What is the precondition of pouch loader operated?
(1) Mini-cylinder need to be connected with the air source of stand up pouch packing machines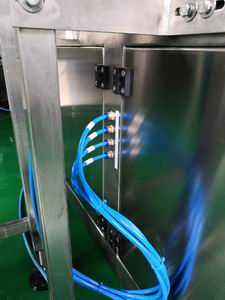 (2) Empty pouch need to be pre-loaded into the loading trail by U-Slot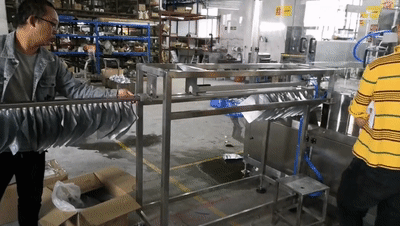 Prev: How to pre-load the spout pouch into the loading trail of stand pouch packing machine?
Next: How the doy pouch machine auto loading and locking the plastic cap?