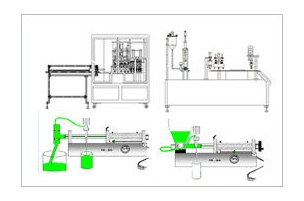 Application
liquid or semi-liquid products.
Requirement
spout bags with single or double gap/step.
Basic working process
- manual pouch feeding->manual product filling->manual cap locking(manual)
- auto pouch feeding->auto product filling->auto cap locking->auto pouch discharge(full automatic)
what is a spout pouch filling machine?
As the name suggests,spout pouch filling machine is a kind of filling equipment dedicated to the spout pouch with cap,or,to be simply understood it as a spout pouch filling and capping machine,that is filled thru the spout.
Throughout its development history,in a sense,this kind of spout pouch machine is the derivatives of the spout pouch and evolving along with its development,in terms of filling speed and stability of machine,it is relatively mature and stable,although the automatic form fill seal machines of spout pouch has came out for many years,undoubtedly,it is still irreplaceable.
Advantages
-The variable frequency variable speed system is installed to regulate production rate.
-The precise indexer helps achieve accurate turnplate positioning.
-To reduce the labour intensity, this spout pouch filling and capping machine is engineered with automatic pouch feeding mechanism.
-The machine adopts special metering device to ensure accurate filling amount.
-Liquid splashing and bubbling can be avoided by virtue of the vacuum and insert-type liquid filling.
-This spout pouch filling machine comes with automatic adjustable cap handling and tightening device, ensuring the cap is firmly tightened up.
-In addition to the automatic standing pouch unloading device, the pouch capping equipment is installed with organic glass screen for high safety.
-The spout pouch filling machine with stainless steel rack, electroplated pressing plate, and 304 stainless steel plate housing.

Basic knowledge of spout pouch filling machine
article of spout pouch filling machine