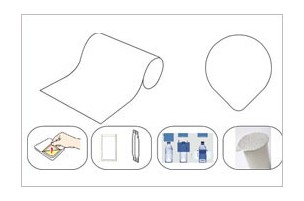 Flexible packaging film,it is a kind of flexible packaging materials which is putted into a roll stock film and wounded around a paperboard core.
Application
form fill seal into pouch / sealing of container /conformed to the shape of container
Equipment of apply
-form fill seal pouch machine(for pouch packaging film)
-lidding film machine(for lidding film or foil lid)
-shrink sleeve applicator (for shrink sleeve)
what is flexible packaging film?
flexible packaging film,also well known as flexible packaging rollstock,it is a kind of laminated packaging films with a non-rigid structure and aids in the preservation and protection of their product.
It provides the consumer with fresh, attractive packaging,choose a mono or multilayer film to improve both the design aesthetics and packaging properties with barriers for oxygen, moisture,aroma and light,to meet the needs of extending the product shelf life.
Feature of flexible packaging film
1-Customizable
2-Versatile
3-Minimizes Production Costs
4-Promotes Reusability and Convenience
5-Environmentally Friendly
Basic knowledge of flexible packaging film
article of flexible packaging film