Quotes of shrink sleeve from worldwide clients
Nov 09,2022 | Views: 30
Fenbo Packaging located in Shantou, Guangdong, China-the origin place of China flexible packaging industry. As one of leading flexible packaging suppliers of China, Fenbo Packaging is dedicated to the manufacturing of
flexible packaging film
with different presentation for over 20 years. Recetnly, we got some quotes of shrink sleeve from worldwide clients.
1. Product: shrink sleeves etiketten hersteller| lebensmittelverpackung plastik-FBSSB080
Quote: Bonjour, je voudrais avoir des informations concernant la production de vos emballage. Le prix unitaire? La quantité minimale comandable? La contenance?. Et aussi concernant le design avez vous des grafistes qui s'en chargent ou alors dois je gérer tout ça et vous envoyer le design fini. Merci
2. Product: easter egg shrink wrap sleeve decoration suppliers | rotogravure printing packaging-FBSSB083
Quote: Is it possible to submit my own design to have Easter egg shrink wrap sleeves printed? What is the cost? What is the minimum quantity to order? Can I submit the design in jpg format? Thank you for any further information you can provide.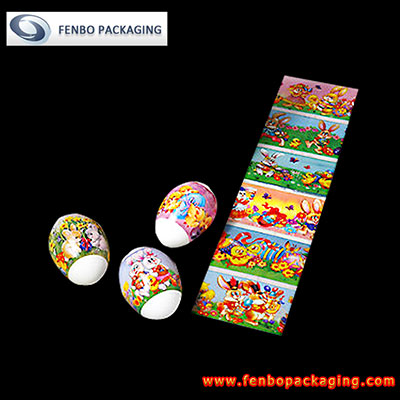 Since the commencement of our business, we have served more than 30 industries. We have enough experience in dealing with both product end-users, traders and group packaging project, professional purchasers. If you are intersted in our
shrink sleeve
, please contact us:
[email protected]
Next: Quotes of lidding film from worldwide clients