Quotes of pouch filling and sealing machine
Dec 29,2022 | Views: 179
Fenbo Packaging located in Shantou, Guangdong, China-the origin place of China flexible packaging industry. As one of leading flexible packaging suppliers of China, Fenbo Packaging is dedicated to the manufacturing of pouch filling and sealing machines with different presentation for over 20 years. Recetnly, we got some quotes of
pouch filling and sealing machine
from worldwide clients.
1. Product: rotary liquid packaging pouch fill and seal packing machines-FBY200
Quote: Please provide quote for this machine. we want to pack pout standup pouch's with high viscous rn products like porridge with cereals and fruit mashes in retortable format.
2. Product: rotary liquid packaging pouch fill and seal packing machines-FBY200
Quote: Hello, We are a Polish company producing cosmetics. We are interested in an offer for your DoyPack filling and closing machine. Please send me the price of the machine along with the expected waiting time for the completion and delivery of the device. Regards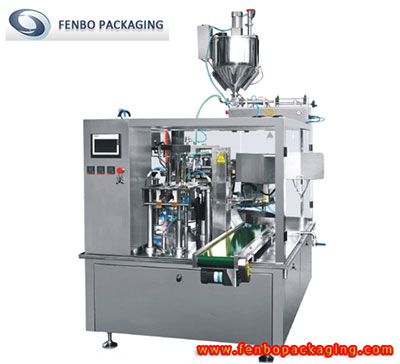 3. Quote: I trust you are well. please am looking at a fully automatic VFFS filling machine that can pack from 50grams,100,240 and 500grams,it should be in position to pack 30-50 pouches per minute. The material to be packed will be black tea. Kindly make two quotes, one for machine and paper films which you can recommend and the price should be fair enough. Kindly Respond As soon as possible. Thank you Kind regards
4. Quote: Hi How are you? I'm from a food manufacturer company in Indonesia. I wanted to ask regarding a custom pouch packaging for sauce or topping product and also if you have the machine that can be used for the filling. Thank you
5. Quote: Dear Sir/Madam I looking for a spout sealing machine. Would appreciate if please send me its price and video clips etc.
6. Quote: Good Evening, I hope that you and yours are doing well. I need a machine to pack apple sauce in spouted pouches. What is a good number to reach you? Warm Regards
7. Quote: Hello, i would like to ask for pricelist of your pauch pack processing maschines. Thank you
Since the commencement of our business, we have served more than 30 industries. We have enough experience in dealing with both product end-users, traders and group packaging project, professional purchasers. If you are intersted in our pouch filling and sealing machine, please contact us: [email protected]
Prev: How does a pouch sealing machine work?
Next: Buying Pouch Filling and Sealing Machine | Vital Questions to Ask