spout pouch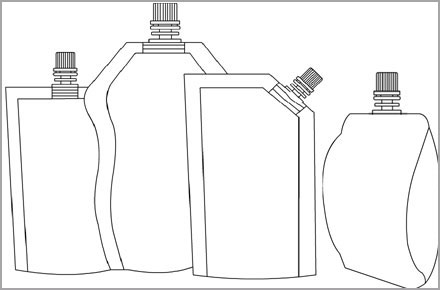 what is a spout pouch?

spout pouch,also known as fitment pouches,it is a kind of flexible packaging bags with gusseted sides or bottoms and assembled with a recloseable fitment
As a kind of once underestimated packaging,now it has became a kind of new packaging trend of food industry or non-food industry and becoming more prevalent across many industries due to advances in flexible packaging materials and an increasingly wide variety of convenient fitments,alike for packing liquid, viscous and fine powder products,it is available in a range of different shapes and sizes,this is the perfect format for providing powerful branding and attractive on shelf product presentation
Spout pouches are available with a range of different spout fittings and delivery methods depending on your product requirements and filling capabilities,and to be an innovative and convenient alternative to rigid glass, metal and plastic bottles
basic knowledge of spout pouch
article of spout pouch
Why the aluminium spout pouch need to add the Nylon layer?
Sep 06 , 2019
Contrasting the aluminium spout pouch with the common doypack aluminium,we can find the main difference of material structure between them lies in the NYLON layer,so,why it need to add this layer? Ok,let's see what happens when we cancel the Nylon layer? PE is a kind of plastic that only could resist 100 degree in max and the heat sealing...
Read More
How to select material structure for your spout pouch bag?
Dec 13 , 2019
Related reading:Spout pouch material structure How to select an appropriate material structure for your spout pouch bag? maybe it is a quite tricky problem to you provided this is the first time you adopt by this kind of packaging,first of all,you may don't know what is their characteristic,secondly,you maybe don't know which structure is more suitable for...
Read More