gusset pouch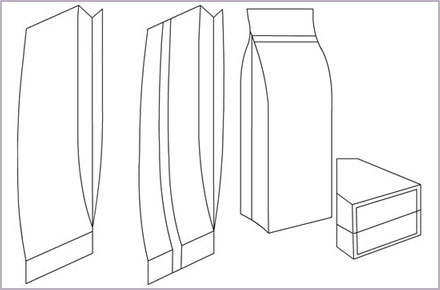 what is a gusset pouch?
gusset pouch is a kind of pouch with both side gusset or bottom gusset,when the bag is filled,the gusset will be flattened out and present as a"three-dimensional"view effect
This kind of packaging bags is perfect for wholesale packaging in the tea and coffee industry or retail packaging of products such as snacks,pet food and sports nutrition etc,ideally suited for the pack sizes between 500g and 20kg,without the absence of a back seal,you can benefit from uninterrupted brand messaging on all four of the pouch's panels and giving retailers more options for shelf display,a reinforced structure makes it visually appealing on supermarket shelves and affords the opportunity to enlarge your marketing and promotional messaging by utilising high quality print
basic knowledgeb of gusset pouch
gusset pouch styles
May 30 , 2019
As per the different place for the gusset of pouch,thegusset pouch styles can be divided into below two types bag with side gusset place of gusset side gusset bottom gusset bag place of gusset side ...
Read More
gusset bag materials structure
Jul 23 , 2019
As per the different packaging content,the gusset bag materials structure can be divided into below few types material structure of gusset side bag...
Read More
article of gusset pouch
how to subdivide the bag gusset types?
Sep 20 , 2019
what is a gusset bag that you need?actually,they all owned both side gusset and look similar,however,after the filling of content,they will be quite different from the shape before the filling,So how to subdivide bag gusset types? side gusset pouch both side gusset and fin seal are the basic character of this kind of pouch,your products will be...
Read More